What makes Korean eyebrows different? Read on below to find out!
Korean beauty (or K-beauty) trends always seem to be among the most universally popular. There's just something about the way Korean culture does makeup, beauty, and skin care that appeal to women from all around the world. A few examples include several unique skin care products—such as serum and emulsions—the Aegyo Sal trend, and another trend we're highlighting today: Korean eyebrows.
There's no one right way to style or shape your eyebrows to imitate Korean brows, and that's good news! The truth is that there are a range of face shapes that might be better-suited for one type of brow style over another. Let's take a closer look at what the Korean eyebrow trend encompasses, how to shape your brows to get the look, and explore which options might work best for you!
Korean Eyebrows: History & Current Trends
Modern Korean eyebrow styles have been trending for quite some time with the aim of contributing to a more youthful appearance. Emulating a youthful glow, complexion, and overall young countenance is among the primary goals of K-beauty, so it's no surprise that Korean eyebrow-shaping only adds to this effect.
The Korean eyebrow style gained traction in the U.S. and other countries only recently, when celebrities like Jessica Alba, Emma Watson, and Miranda Kerr began adopting straight, soft brows. Whether you noticed it or not, this trend originates from Korean beauty standards, and can be achieved in a variety of ways. More than just "straight brows," there's also the feather effect, dark and defined look, light and natural style, and a look referred to as "boy brows."
Below, we'll dive into each type of Korean brow style so you can determine which is your best fit!
Korean Eyebrows Tutorial: 3 Steps
With a few pointers, drawing Korean-style eyebrows is effective and easy to pull off. While the process may be a bit time-consuming at first, practicing over time will eventually make the art of drawing Korean brows effortless!
1. Outline the shape of the eyebrows
There are three main points to any brow that should be followed when drawing your desired shape: the head, the arch, and the tail.
You'll want to begin by taking an eyebrow pencil that matches the color of your hair and hovering it above the tip of your nose, following a straight, invisible line to the outer corner of your nose. The head of your brow should start at this point, directly above.
Next, you'll need to know where your natural arch should occur. A good rule of thumb for determining this is to follow a straight line up from the center of your eye. This should mark the most natural location for the highest point of your eyebrow.
Finally, to gauge the best ending point for the tail of your brow, follow the outer edge of your bottom eyelid vertically until you reach your brow bone. This is where the tail of your brow should end.
2. Start shading in the outline
Once you've determined the proper shape for your arched Korean eyebrow look, you'll need to shade in a way that makes your brows appear as natural as possible. To accomplish this, consider using more than just one color to shade.
Ideally, the darkest part of your brow is located near the head, while the lightest area sits at the tail (as natural thinning typically occurs at the outer edges). Typically, another light section of your natural brow is located at the furthermost head, closest to your nose.
You can accomplish this light/dark effect with a few different brow pencils, or with a slightly heavier or lighter hand (depending on the section of the brow you're shading). It's also beneficial to use short, quick strokes as opposed to simply coloring the hairs uniformly, which will enhance the "natural" effect you're aiming for.
Another tip: don't rush the drawing and shading process, even though it may be time-consuming at first. Consider applying multiple layers of color to your brows, building your desired effect slowly with each application to avoid too much drama in one area.
3. Blend in the colors & lines for a natural finish
Once you're satisfied with the look you've created, blend color softly to reduce the appearance of obvious coloration or lines.
Straight Korean Eyebrows
Contrary to the dramatic, severe arches that are more popular in places like the U.S., the straight brow style that's popular in the world of k-beauty promotes a more relaxed beauty. Full, straight (except for a slight downward slope at the outer corner), and attractively wispy, these brows convey an effortless type of beauty. It's an attractive look that seems to say, "I might have been born this way."
Straight brows are complementary for oval-shaped or longer faces with few angles. This is because flat eyebrows give the illusion of shortening the face.
Styling & Shaping for Straight Korean Eyebrows
If your brows are naturally-arched, you'll need to tweeze any defining hairs to change the shape and make your eyebrows flat. Be careful not to necessarily make your brows thinner—the goal will be to make them shorter at the edges and flat along the perimeters. Do be aware that changing the shape of your natural brows could alter them permanently, though most eyebrows do grow back.
Products for Straight Korean Eyebrows
For the perfect straight brow look, you'll need tweezers to shape, as well as eyebrow powder and a very thin brush for optimal application. Fill in gaps and color hair delicately to achieve the ideal straight eyebrow effect. We recommend Anastasia DIPBROW Pomade as the best brow powder for long-lasting wear.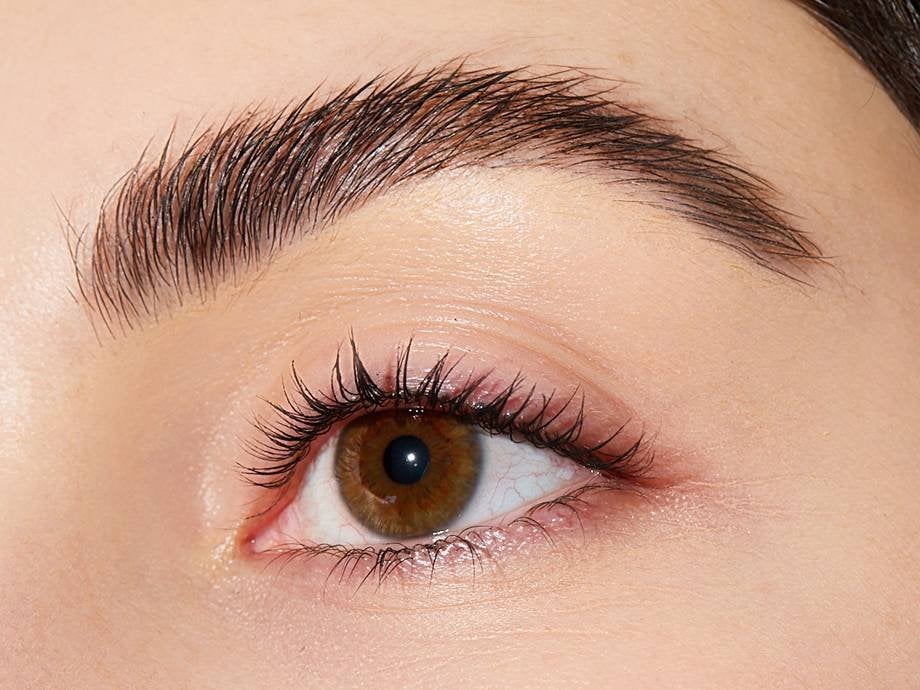 The Feathered Eyebrows
Anyone can achieve a feathery brow! Whether your eyebrows are naturally thick or sparse, the feathered look is straight without being "flat," and gives a fluffy, natural appearance. This style works especially well with a fresh-faced makeup regimen, such as a coat or two of mascara, a bit of creamy blush, and a swipe of clear lip gloss. It all lends itself to a rather minimalist aesthetic.
The feathery eyebrow style works well for any face type—it's more of an effect than a shape. Achieve this attractive, fluffy look on straight and arched brows alike!
Styling & Shaping for Feathered Brows
A feathered effect can be achieved with any type of brow! Simply sit back and let your eyebrows do a bit of growing out—it's important to refrain from over-tweezing for this style to succeed. If you have naturally-arched brows but would prefer this look combined with flat brows, tweeze as necessary, but keep the overall shape thick. Another key component of the feathered look is long eyebrow hair. You can create this illusion with a clear brow gel, which will ensure a natural-looking style while still achieving the effect you're after. You can also try a light hue of any brow pencil to get the same look.
Products for Feathered Brows
For a budget-friendly, yet highly effective clear brow gel, we recommend NYX Professional Makeup Control Freak Eyebrow Gel, which is great for a long-lasting hold and setting power. Another great alternative is combining a brow pencil with a lightly-tinted gel, like this fabulous two-in-one product that comes in eight shades.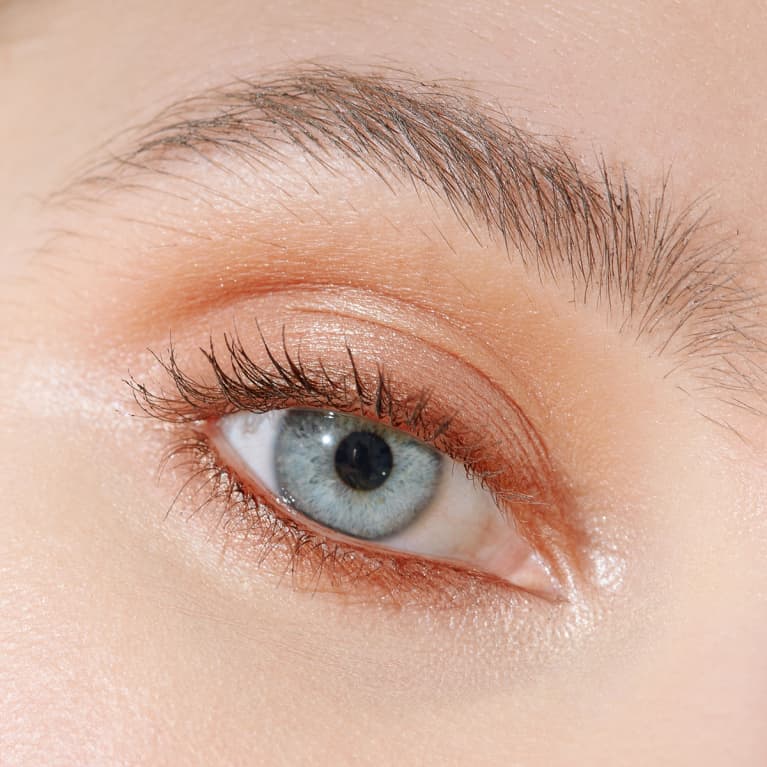 Light & Natural Eyebrows
Similar to feathered brows, natural brows are exactly what they sound like: flat eyebrows with no makeup application. Even if you have extremely light hair or very thin brows, there's something unmistakably attractive about rocking the beauty you were born with! Complete the effect with some nude or pink lip gloss and a beautiful, clean complexion for a fresh, dewy look.
Styling & Shaping for Natural Brows
You guessed it! This one is easy because natural brows require zero effort and very little upkeep. Feel free to shape from time to time by tweezing any errant hairs, but other than that, let nature do all the work for you!
Products for Natural Brows
None recommended for natural brows. Go eyebrow-makeup free! Drive home the style with a minimalist makeup look that enhances all of your natural features.
Boy Brows
Boy brows are a natural, deliberately unkempt style that work best on flat eyebrows. This look is most easily characterized by the width and fullness of the inner brow, sustained mostly through the outer corners and ending in a slight downward curve.
Boy brows may work best on more delicate face shapes for a complementary clash between soft jaw line and masculine brows. It's an especially great option for heart-shaped or round faces.
Styling & Shaping for Boy Brows
The secret to boy brows is brow gel on overgrown eyebrows. The clear gel will help keep your eyebrows structured, but the length and width of them will lend itself to the "boy-brow" effect that you want. Tweeze only stray hairs that land far above or below your brow line, but keep the overall shape thick and slightly sloped at the outer corners.
Products for Boy Brows
A tinted brow mascara will do the job perfectly when it comes to creating a long-lasting boy brow effect! Tarte's Busy Gal Brows tinted brow gel is a great option for this style, with waterproof 12-hour power that will hold eyebrows in the desired shape throughout the day.
A Final Word
We hope that this article has provided you with helpful pointers as you navigate creating the best Korean eyebrow look for you! With a bit of practice and dedication, you'll be able to pull off the style that's most flattering to your face shape in no time.